Find our content interesting? Share It.
If you've been trying to get reviews from your patients or clients on Yelp, you will know that it is possibly the most difficult review site to get reviews published in the main section of your business listing. If you have not, as a business owner, you need first to understand why reviews on Yelp matter for your practice or company. After looking at the main  issues with Yelp reviews, you need a simple plan on how to get reviews to stick on your Yelp page. We will point you in the right direction.
Why should you care about getting reviews on Yelp in particular?
Consider these facts:
your current and future patients read (and trust) online reviews to help them make purchase decisions – including for eye care services such as yours
Yelp has 145 million unique visitors per month, 86 million per month on Yelp's mobile app
Yelp's category pages often dominate Google's search results
your Yelp listing is likely to come up prominently in Google's search results when someone searches for the name of your practice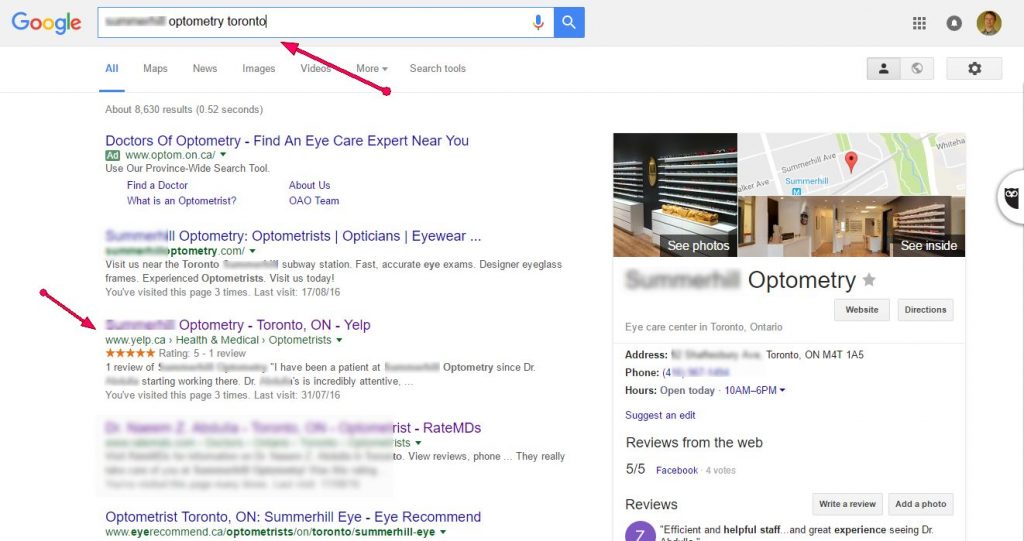 So how do you go about leveraging Yelp to bring in more patients? First you need to understand the major well-known and lesser-known problems Yelp has.
Summary of issues with Yelp reviews and how they affect your practice
Yelp filters reviews (25% or more) – most of the time it does not do it well
If you get a negative review on Yelp, it is very likely going to display on the first page of your practice name search results, especially if the reviewer mentions your company by name
Yelp feeds reviews to Apple Maps (affecting local service searches on iPhone), Bing Places and Yahoo Local – so your bad reviews can show up on all these 3 major search engines
Most "new" reviewers get their reviews filtered until they are seen by Yelp as "trusted", usually until they have at least 10-15 reviews, display enough profile info and are relatively active on Yelp
Yelp reviews can get filtered and unfiltered multiple times depending on reviewers activity on Yelp
Negative reviews seem more likely to stick
The first review a business / OD practice gets is more likely to stick
Reviews that you flag are very hard to get removed by Yelp
 Yelp has been pushing the "not recommended" reviews (= filtered) farther and farther out of sight on your listing page
So what should you do to leverage Yelp reviews?
If you have no listing for your practice on Yelp, make sure to create one because ultimately Yelp is going to create it for you and you want to control the timing as much as possible (see 2.)
If you have no reviews on Yelp yet, make sure to get a patient to leave you a (first) glowing 5 star Yelp review
On an ongoing basis: make sure to identify which ones of your patients are active on Yelp, and get them to write a review for your practice (for details on how to do this safely, make sure to contact us first).
Consider using Yelp's Check-In offers as they (currently) are a ranking factor on Yelp
Still not convinced your practice would benefit from harnessing Yelp reviews? Let us know what you think below, or get in touch if you want to get started.
(sources: Yelp, http://expandedramblings.com/index.php/yelp-statistics/, Localvisibilitysystem.com, joyannehawkins.com, BightLocal, M Blumenthal blog)
Find our content interesting? Share It.